'Aina Ho'okupu O Kilauea brings food to the community
---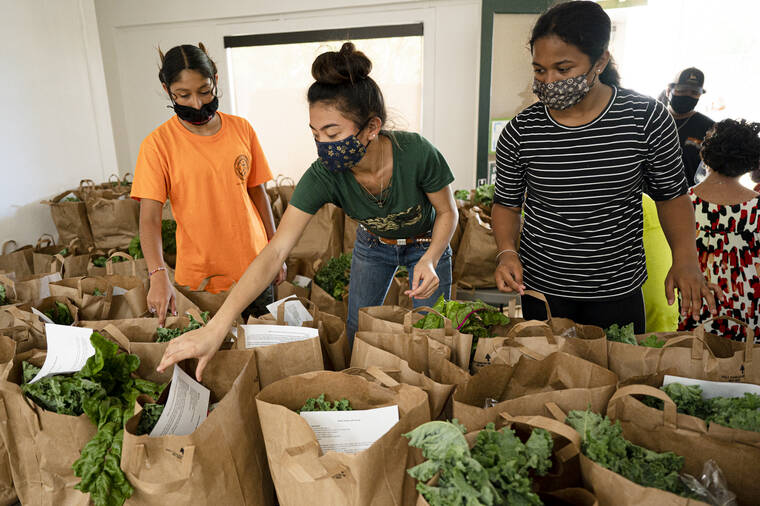 KILAUEA — In March of 2020 Kaua'i farmers had a big problem: while farms continued to produce, pandemic restrictions shut down farmers markets, and suddenly, farmers had no way to distribute their produce.
'Aina Ho'okupu O Kilauea is a nonprofit whose goal is to facilitate solutions to economic, social, agricultural and food security challenges on Kaua'i. As a steward of a 75-acre agricultural parcel, AHK felt the impact firsthand.
Executive Director Yoshito L'Hote organized a meeting to problem solve with local producers. AHK agreed to purchase produce from farmers to then aggregate and distribute the food into "farmers market boxes." Within a few weeks, about 25,000 pounds of food, from between 30 and 40 farms, made up to 2,000 farmer market boxes each week.
Six weeks after AHK started distributing boxes, the nonprofit received $1.5 million through the USDA Farmers to Families Food Box Program. The program paid for the food so that AHK could facilitate distribution at no cost to members of the community who needed it the most.
AHK's funding from the Farmers to Families program ended in September 2020, however, the need persisted.
L'Hote and his team got creative and started devising other ways to fund the food boxes. Using profits to keep the program running temporarily, the team strategized to keep the program going long-term.
"Here on Kaua'i nobody should go hungry, and this is ultimately our goal," said L'Hote.
This August, AHK received about $100,000 in grants from Freeman Foundation through the Hawai'i Community Foundation, the Office of Hawaiian Affairs and a private donation of $25,000 to deliver 200 bags of produce, of which at least 175 go to Native Hawaiian families in need weekly.
AHK provides about 90% of the food for the deliveries. Just three other farms provide the rest. When there is enough produce, AHK makes additional bags, and on some weeks can deliver closer to 260 bags.
Each week the food is harvested, cleaned, bagged and delivered to community partners around the island who help distribute the food locally. Kula Aupuni Ni'ihau A Kahelelani Aloha Public Charter School receives 100 bags every other week.
"I am really happy that we are doing this because we get to bring healthy food out into the community," said eighth grader Amy Dominguez after helping unload 100 bags of food into her school cafeteria on Sept. 24.
On days food is delivered, Dominguez and her classmates go with their teachers to distribute food to kupuna and other vulnerable members of the community. Leftover food is sent home with students to share with their families.
KANAKA is just one of several partners that helps distribute the food.
"All the distribution is done by volunteers," said L'Hote. "Their impact is huge. We have such an incredible community. It is very special."
L'Hote said he wants to invest in making more value-added products, like prepared food to increase profits and better meet the needs of individual families as a way to grow AHK's impact on the community.
"Eventually (we could) have soup kitchens available for people that are homeless, because if (they) get a box of produce, but half of it (needs to be) cook(ed), it's very difficult," L'Hote said.
Investing in building capacity for young farmers is also part of L'Hote's dream for expansion. He hopes current interns and farm workers will be able to use skills gained working for AHK to start their own farms on the property to grow even more produce for the community.
"Our vision in the long term is to have all those individuals become entrepreneurs and (have AHK) be able to aggregate (and distribute to the community) for them," said L'Hote. "The goal is to make fresh food available to everyone on the island regardless of income."