Caring for Our Community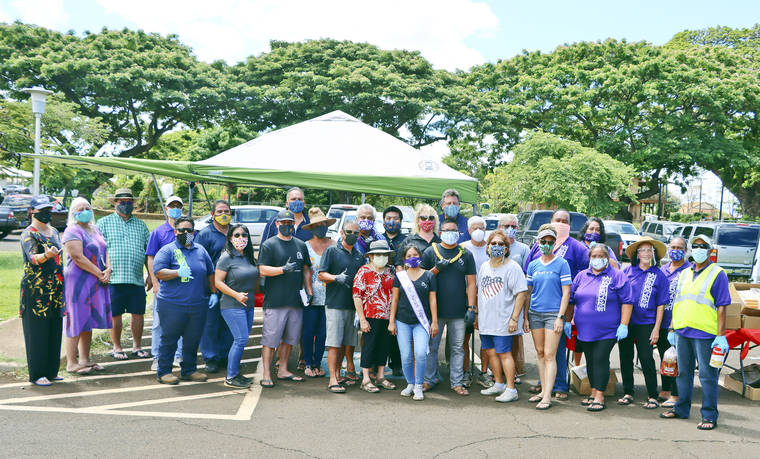 ---
A day-long party highlighted by a pyrotechnic show would normally fill the Westside on the Fourth of July.
This year, however, almost all of the traditional July 4 events, including the day-before Freedom Fest hosted by the U.S. Navy's Pacific Missile Range Facility at Barking Sands and the day-long July Fourth celebration in Kekaha, were victims of the COVID-19 pandemic.
With the state Department of Health Kaua'i District Health Office reporting two new positive cases of COVID-19 on Kaua'i Saturday, officials continue to urge the public to refrain from large gatherings with people outside one's immediate household, and if anyone must go out, to wear a mask, practice social distancing from others, and stay outdoors as much as possible.
"We were able to get hamburger from the Kaua'i Meat Company," said Josh Uyehara of Hartung Brothers. "This way, we can encourage people to go home and barbecue the burgers for their family."
The meat from Bobby Farias through the Hawai'i FoodService Alliance was just one of the offerings at the Caring for Our Community free meal and surprises that flowed through the Waimea Canyon Middle School drive-thru.
Stephanie Iona, the coordinator for the free July Fourth giveaway, said gratitude should go to state Senate President Ron Kouchi for "bringing us all together."
Kouchi was on hand to serve up the first 100 to-go meals prepared by the Kaua'i Veterans Memorial Hospital kitchen, and following the exhaustion of the planned 600 meals, distributed tickets to other participating restaurants offering free meals.
"We want people to go into town," Iona said. "We have L&L Barbeque Waimea offering chicken katsu and Teri beef specials, Subway sandwiches offering foot-longs, Gina's at the Historic Waimea Theater with homemade spaghetti and garlic bread, and Wrangler's having kalua pork, lomi tomato, and rice."
The surprise portion of the meal included Super Duper 2 ice cream coupons good for 30 days, courtesy of Global Ag and served up by Kouchi and other political figures including county council incumbents and hopefuls.
Cars transitioned to the food pickup, with Sarah Thompson of Beck's Hybrids offering unique popcorn on the cob, an item that Beck's produces here on Kaua'i for sale in other states.
Kelvin Moniz of the Kaua'i Independent Food Bank provided soups and bread, which were combined with the bottled water provided by Pepsi and packaged by one of the Hawaiian-immersion schools in Kekaha and ferried to the ready station by Tiffany Sagucio, the reigning Miss Kaua'i Filipina.
"I'm here because of Laurie Yoshida," said Addison Bulosan, normally occupied with creating the physical setup for the Kaua'i Hospice Concert in the Sky. "She asked if I could help since there's no concert this year."
Other providers included Yoshi L'Hote and 'Aina Ho'okupu O Kilauea, who made the trek from Kilauea, the Hawai'i State Farm Bureau, and the Kekaha Agricultural Association.
"I'm beyond hand-sanitizing," Yoshida said following a steady stream of cars. "My gloves are full of water. I'm not having anything to do with food. My gloves feel like water balloons."
•••
Dennis Fujimoto, a staff writer, and photographer, can be reached at 245-0453 or dfujimoto@thegardenisland.com.